We are pleased, excited, and all sorts of happy to publish the inaugural installment of our new Women Writers Reading feature. Below, Kali VanBaale reviews Celeste Ng's debut novel, Everything I Never Told You (2014), and it's a doozy.
---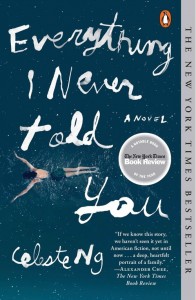 Lydia is dead. But they don't know this yet.
So begins Celeste Ng's debut novel, Everything I Never Told You, which at first glance looks to be a stock literary thriller. But it's where Ng masterfully and meticulously takes this story—far beyond the who-done-it mysterious death of a young girl—that ultimately propelled this book to numerous awards in 2014 and well-deserved critical acclaim.
The missing girl is Lydia Lee, favorite child of James and Marilyn Lee, a mixed race Chinese and white couple living in a quiet, all-American Ohio town in 1977. Lydia, blue-eyed and the most white-looking of the three Lee children, is responsible, serious, and driven, but bears the terrible burden of her parents' heavy expectations that echo their own personal demons. Marilyn demands academic and intellectual greatness, while James pushes for popularity and social acceptance.
The narration ambitiously alternates and moves around in both time and points of view, and in the hands of a less-skilled writer could have easily turned into a disjointed mess, but in the skilled hands of Ng, it's sophisticated and seamless. Through this brand of close omniscience, the reader sees and understands the inner workings of a complicated family, inner workings that the members often don't see or understand themselves. The deeper mystery of this story looks beyond the unanswered questions of Lydia's death to the mysteries of what each family member can't or won't say to each other—about resentments, disappointments, fears, the isolation from being different—and why. What Ng so expertly paints is the portrait of a mixed race family struggling with its place in a neighborhood, in a town, and ultimately in American society.
Intelligent, timely, finely crafted and compulsively readable, Celeste Ng has firmly established herself in the literary world with a fresh, diverse voice.
Ng (pronounced "ing") lives in Cambridge, Massachusetts. Everything I Never Told You was a New York Times bestseller, Amazon's #1 Best Book of 2014, a New York Times Notable Book, and on the Best Book of the Year lists of over a dozen outlets.
---
About the reviewer: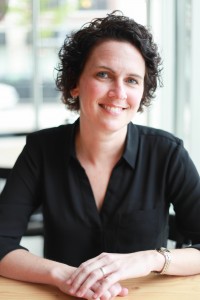 Kali VanBaale's debut novel, The Space Between, earned an American Book Award, the Independent Publisher's silver medal for general fiction, and the Fred Bonnie Memorial First Novel Award. Her short stories and essays have appeared in The Milo Review, Northwind Literary, The Writer and the anthologies Voices of Alzheimer's and A Cup of Comfort for Adoptive Families.
Her second novel, The Good Divide, is forthcoming from Midwestern Gothic Press in spring 2016. Her third novel, The Cure for Hopeless Causes, was awarded a State of Iowa Arts Council major artist grant and is pending publication. In 2014 she was awarded the Great River Writer's Retreat to begin work on a fourth novel.
Kali holds an MFA in creative writing from Vermont College of Fine Arts. She currently lives outside Des Moines with her husband and three children.