A librarian's recommendation dropped this gift into my hands. Violeta's love letter to her grandson will live on in me until my last moment.

Her fictional memoir spans the great upheavals in recent world history. The Depression robs her privileged family of much more than wealth. Exiled from her South American country capital city to a decrepit farm near an impoverished shantytown, the scope of Violeta's world shifts to long days of laborious work required to survive and months of travel to reach and teach children without a school under the tutelage of a suffragette's parents. The combined examples of hope through educating and resisting transforms and sustains Violeta through the rise and fall of injustices inflicted by tyrants, the fight for women's rights, painful personal sacrifice and unbridled abundant joy.
The parallels between pursuits and people in my life and this brilliant book were so subtle that those dots didn't connect for me until the final pages. Like Violeta, my father was born during one pandemic and lived until the next. Her descriptions of the horrors and losses in the rise and fall of democracy, dictators and military coups in Latin America painted graphic pictures in fiction of the real life testimonials I researched while writing my second romantic suspense novel.

I cared for, worried about and suffered along with Violeta the consequences of life and the loss of every character created by Isabel Allende. Each gaping hole of final separation took me back to the moments when I've felt the stab of that irreversible agony and knew that life would never be normal again. Yet Violeta's story taught me invaluable lessons on letting go and going on. "I didn't dwell on death because I was excited by life," writes Violeta as 100 years of living wanes in semi-lucid twilight to an inevitable close. "There's a time to live and a time to die. In between there's time to remember."
---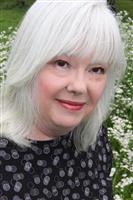 Author Teresa LaBella grew up in Davenport, Iowa. The people she interviewed as a journalist and met in her work in the arts and with nonprofit organizations colored her future fiction writing canvas and sharpened her love for telling a good story.  Her first contemporary romance novel, Reservations, published in 2013. Two more novels, a novella and four short stories completed the New Life in Love McKenna family saga series. Her first novel in The UnMatchables romantic suspense series, Danger Noted, published in October 2020. The political thriller Capital Strings, set in the capital city of Ottawa in her now home country Canada, published in 2021. Danger Revealed, the second case for Chicago-based UnMatchables private investigators Eddie Emerson and Kelly Gillespie, focuses on the ripple effects of the Dirty War in Argentina, the tragedy of human trafficking and the tenacious grace of love.