To celebrate the new Murder on the Orient Express and with great affection for Agatha Christie, who I consider the queen and founder of the cozy mystery genre, femmeliterate offers these three mystery authors to go with your crackling fire, soft socks, snuggly blanket, and hot cocoa laced with whatever kind of spice you most like. All three of the series below feature a clever and business-savvy heroine enmeshed with hilarious and not-always-healthy female relationships as companions in her sleuthing. Cozy up and enjoy!
---
Bodice of Evidence is the second in the Perfect Proposals series by Nancy J. Parra (who also writes as Nancy Coco), and nobody says you have to read anything in order if you don't want to. Pepper Pomeroy is trying to get her proposal-planning business off the ground, and she'd be doing great if she didn't have to help her sister, Felicity, plan her own wedding—and then find out who killed the owner of the bridal boutique where they found The Dress. Sneaky assistants, a budding romance, and dark alleys all make Pepper wonder where she can turn and who she can trust. The writing is accomplished, the voice is lively, and the supporting cast of colorful characters are all suspicious enough in their own right to keep things moving right up until the end.
---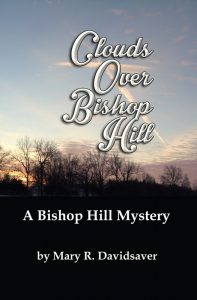 Clouds Over Bishop Hill is a delightful debut by Mary Davidsaver, who builds the incredible history of the real-life historical landmark, Bishop Hill, Illinois, into a story of small-town art-world intrigue. Killer Nashville called it "a bit of an art caper/cozy mystery set against a rich Midwestern background, peppered with interesting historic details." Shelley Anderson isn't excited about coming back to her tiny hometown after graduating college, and sees the summer as a jumping-off point to better things. But when her friend Pearl enlists Shelley's help in locating a lost painting by the town's most famous resident, Olaf Krans, Shelley wonders if her "help" isn't going to cause more trouble. Add in an adopted father on the run, an old grade-school nemesis/crush who keeps popping up, and the altogether suspicious staff of the local art museum for a must-read story that will keep you guessing and teach you something along the way. (Olof Krans was a real person, for one.)
---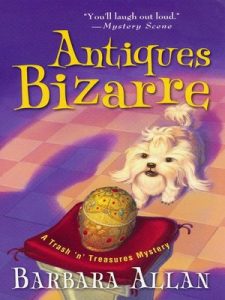 Antiques Bizarre is part of the Trash 'n' Treasures series coauthored by the married mystery duo of Max Allan and Barbara Collins, writing under the name Barbara Allan.  The story takes place in a town called Serenity, which resembles the town of Muscatine, Iowa, closely enough to tickle readers who live there. While Mr. Collins is best-known for his hard-boiled novels—Dick Tracy, Road to Perdition, and continuing the Hammer series of Mickey Spillane—the Trash 'n' Treasures series has the sacred hallmarks of the cozy: a somewhat muddled heroine whom everyone underestimates; a batty mother who inspires both awe and fear; the small town filled with the cast of odd supporting characters; and the requisite small dog. Kirkus Reviews thinks this is the book where the series hit its stride, but given the continuing plot lines, some readers might prefer to read in order. Still, you don't have to know a thing about antiques to laugh out loud over the hilarious adventures of Brandy Borne, Mother, and Sushi, the blind, diabetic Shih Tzu, or enjoy the tips on antiquing provided along the way.