Cooking for Picasso is one of those books that readers devour and authors envy.
Camille Aubray has crafted a novel that could have become disjointed and confusing in less than expert hands. Celine's story in 2016 is told in first-person, modern day action and reflection. The third person telling of her grandmother Ondine's story chronicles tribulations and triumphs over the span of a lifetime, from France in the years between World Wars, immigration to America, tragedy in New York, and a return to her World War II-ravaged French Riviera hometown of Juan-les-Pins with her daughter, Julie, the child conceived during a brief affair with Pablo Picasso in 1936. Celine's search for a missing work of the Master in hopes of selling the lost treasure and rescuing Julie, her fragile and critically-ill mother, is the tie that binds the tale together.
Celine paints a shadowy picture of mystery and deception in the prologue that serves to introduce Ondine, a young and beautiful dreamer open and eager for every opportunity and possibility. While Ondine waits for her lover Luc to return from finding his fortune and earning her dowry, she cooks for the Patron Picasso, poses for him, and makes love with him in defiance of her café-owner parents who promise her hand in marriage to a well-to-do, older man Ondine does not love. She challenges Picasso to paint a portrait of her reminiscent of Rembrandt. He promises to give her the painting, but abruptly leaves France and Ondine, empty-handed and pregnant. Luc returns and vows to raise the child as his own. The couple elope and leave France ahead of the Nazi invasion for a new life in America.
Fast forward to 2016. Celine's father dies and her twin step-brother and step-sister conspire to acquire all the family wealth and resources. Celine remembers her mother's suggestion of a secret hiding place in the nearly empty family home. She discovers an upcoming travel itinerary with Celine's paternal Aunt Matilda to a cooking school at a Provencal farmhouse near Juan-les-Pins owned by Michelin star Chef Gil Halliwell. Celine takes Julie's place with the goal of finding the lost Picasso her mother hinted Ondine may have hidden in the café where she once lived. The constraints of passing time, and an urgent need to save Chef Gil's investment and dream from a forced takeover by an unscrupulous investor, up the ante and motivation to uncover and claim the Picasso.
The rich layers of plot peel back to reveal the dysfunction that circumstances and out-of-control relationships reap on the meek yet strengthen the resolve of the determined. Ondine is the mistress of her own destiny, no matter what hardship she's dealt. Julie bends and is beaten down by her husband's dominating cruelty. Celine's burden of hurt tarnishes her ability to trust, but not her willingness to risk.
Superbly developed and believable characters and scene descriptions that put the reader in this page-turner make Cooking for Picasso a story to savor, delight in remembering long after The End, and to highly recommend when someone asks, "Read any good books lately?"
---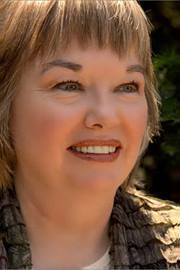 Teresa LaBella published her first contemporary romance novel, Reservations, in 2013. The big city story continued in Heartland, set in small-town Iowa. Belonging, the final novel in the New Life in Love trilogy, moved the McKenna family saga to the west coast of Scotland. LaBella's ebooks include a trio of stories in Tales from Heartland that revisit the charm of Harmony and the lives of neighbors met in book two, and Love Unlikely, the surprising chance for happily-ever-after for Marisa's sister, Rachel. A freelance writer, marketing coordinator, and consultant, Teresa resides in her Davenport, Iowa, hometown with her filmmaker/indie publisher husband, John, and their two Husky fur babies.