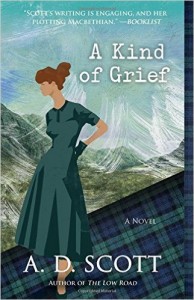 Set in the Northern Scottish Highlands in the 1950s, A. D. Scott's A Kind of Grief could be a revelation for feminists who have previously viewed this decade through the "Leave It To Beaver" looking glass. The women in Scott's tale of mystery and intrigue in the Cold War era are shaped but not defined by their time.
In this book, the sixth in Scott's Highland Gazette Mystery Series, former journalist Joanne Ross McAllister kick-starts her freelance and creative writing career investigating the story of a woman accused and acquitted of witchcraft. A chance meeting with reclusive artist Alice Ramsay in her remote home on the glen triggers a chain of events in which Joanne finds her promise not to reveal Ramsay's whereabouts broken by forces beyond her control. But, following the ruling of suicide in the artist's death, Joanne refuses to believe the vibrant woman she admired would take her own life.
Joanne enlists her newspaper editor husband in her quest for the truth. Though torn by his emotional need to protect his wife, he shares her professional desire to uncover what in the artist's past could have caused her death. The couple navigate a minefield of clues, endure hours of interrogation by classified government agents, and dodge danger on high ridge roads toward the spiraling twists of a surprising spy thriller ending. The author artfully shifts storytelling points of view between brief first person observations to third person description and dialogue without jolting the reader, a creative skill much admired by this author. I highly recommend the first A. D. Scott mystery I've had the pleasure to read. While romance is the genre I write in and prefer to read, exceptional storytelling in any genre excites satisfies and feeds the need for more imaginative adventures.
---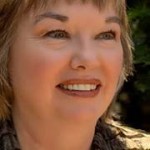 Teresa LaBella published her first contemporary romance novel Reservations in December 2013. Heartland, the second in the New Life in Love trilogy, came out in February, to be followed by Belonging in 2016.
A freelance writer and consultant, Teresa serves on the Board of Directors of the Midwest Writing Center. The Davenport native resides in her hometown with her husband John and three adopted Huskies. You can find her on Facebook or Twitter at @teresa_labella.